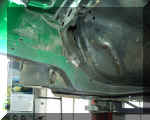 The culprit that started it all! when the clutch bracket broke we pulled the car apart! With a brand new one which is fully seem welded and reinforced, this will never happen again.
Seem welded engine bay can also be seen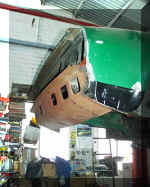 New nose and radiator support panels in place.
It is amazing what new parts I have been able to get for this 28 year old car.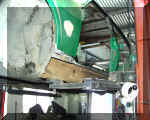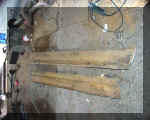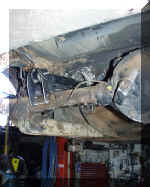 Rear suspension modifications in progress to remove original upper arms and replace them with EA falcon ones and allow for the fitment of a watts link with sway bar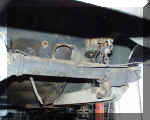 Preparation for right arm position
The brand new rear quarter panel can also be seen in place...right place at the right time, when I found that, just when I needed it.

The work being done is very thorough and of great quality, I am very pleased.

The car will go off to be paint stripped over the next two weeks and then return to have the remaining dents in the floor smoothed and then painted.

The suspension components are being painted, plated, renewed and powder coated. The Steering rack just needed painting, front callipers will be replaced by alloy HZ Holden ones, rear brakes are EA falcon disks, slotted DBA rotors are to be used, front struts will be fully reconditioned, rear shockers will be new.