Friday, March 3, 2000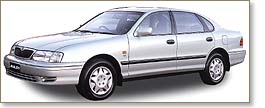 By JOSHUA DOWLING
A car originally designed and built in America is the first truly new Australian car since the Leyland P76, claims Toyota.
The model has been superseded in the US, but that is not stopping the Japanese maker unveiling the "Australianised" Avalon among much fanfare at the Melbourne Motor Show this morning.
Ignoring such overseas-designed but locally assembled cars as the Nissan Pintara, Mitsubishi Magna and the Avalon's Camry stablemate, Toyota Australia executive vice-president John Conomos said the Avalon claim was a "justifiable statement".
"I don't think there is a problem. The Avalon truly is a whole new platform," Conomos told Drive. "And it's a front-drive car in the large car category. We've never seen that before."
He dismissed Ford Falcons and Holden Commodores as being merely "revamped cars with reskinned and re-engineered designs".
Toyota would not claim in its advertising and other hype that the Avalon was "Australia's first new car in 25 years," he said, adding, "It's just a statement of fact."
He said that while the body was "well known", the "cosmetics and the Australianisation" of the Avalon (such as the new grille) were key differences between the local and American versions.
The Avalon has replaced the Corolla on Toyota's Melbourne production line but the maker has modest sales expectations of up to 25,000 cars per year. Pundits predict the Avalon, due on sale in July, will diminish the Camry's tally rather than sales of the Ford Falcon and Holden Commodore.