Holden's V8 lives on in Commodore utes
First Published:
Wednesday, July 7, 1999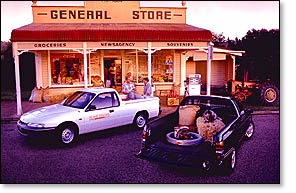 By BOB JENNINGS
The Holden V8 is doing a Nellie Melba in terms of farewell appearances.
Having been given numerous official and unofficial send-offs during the past couple of months, and with the "official" building of the last V8 engine at Fishermens Bend last week, we now have the news that the engine will continue to be used in production for some time to come.
Holden has stockpiled an unspecified quantity of the 5.0 litre iron block V8 engines for use in its utes, although in passenger cars it has been replaced by the 5.7 litre Generation III aluminium Chevrolet V8 from the US.
The Holden V8 was introduced in 1969 and Holden claims it was the first and only Australian-designed and built V8 to be produced in volume, although the claim overlooks the production run of aluminium V8s produced for the Leyland P76.
More than 541,000 Holden V8s were manufactured during its 30-year life.
Last week's "official" farewell was attended by race drivers Craig Lowndes and Mark Skaife, and veteran Larry Perkins who was among the last of the touring car drivers to use the Holden V8 before switching to Chevrolet V8s like the rest of the Commodore drivers.
Holden V8-powered cars won 12 Bathursts, the first in 1975 when Peter Brock and Brian Sampson took the flag in an L34 Torana. The last time was in 1993, in the hands of Perkins and the late Gregg Hansford.
The Holden V8 made its first appearance in the Holden Hurricane concept car, and in 1969 HT Holden buyers could choose between 4.2 litre and 5.0-litre versions.
The engine was re-engineered in 1986 to include fuel injection, and a limited production of this upgraded engine powered the 210kW VL Group A Commodore in 1989.
Sales have been a fairly constant 9,000 units a year.