I recently purchased an original press release pack from a motoring journalist. included with it were the following photos. The notes on the photos are included below. one photo had "Polkinghorne & Stevens Pty. Ltd. 188 George Street, Sydney. N.S.W. 27-5081 - 27-5082" printed on the reverse which I guess were the reproducers of these. There are 17 large photos and so they might take a while to download.

Included within the press release is a lot of printed material which is a bit delicate and I might get it typed to include in the future, A very interesting covering letter promoting the car very well written by Peter North is also included - it is a pity more of this letter wasn't used in 1973 instead of the silly and ineffective promotions of the time which contributed significantly to the car's downfall. I will publish this letter soon....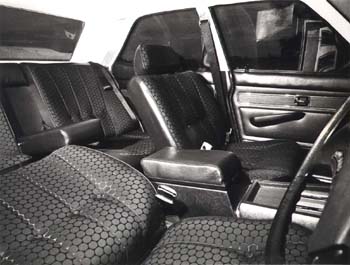 Leyland P76 Executive interior showing reclining bucket seats with cloth trim. Standard equipment on Executive model includes V8 engine, automatic transmission, power steering, radio with power aerial, full centre console and cut pile carpet. Printed on slip of paper attached to rear of photo above.